PROFILE
Learn about the mind behind SEGA Dreamworld.
---
NAME/ALIAS: SEGA GAMER
AGE: UNKNOWN
COUNTRY OF ORIGIN: U.S.A. (DENIED BY U.S. GOVERNMENT)
BLOOD TYPE: A
FILE PHOTO: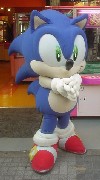 HOBBIES: VIDEO GAMES, WEB DESIGN, MUSIC, AND WOMEN
FAVORITE CONSOLE: DREAMCAST
FAVORITE GAME: JET GRIND RADIO
FAVORITE COLOR: BLUE
FAVORITE WORD: BITCHIN'
REASON FOR CREATING SEGA DREAMWORLD: WANTED TO CREATE A WEB SITE SPECIFICALY FOR PEOPLE WHO USED THEIR DREAMCAST'S TO SURF THE WEB.
INTERESTING FACT: SEGA DREAMWORLD RECEIVES OVER 5000 HITS A DAY AND PROVIDES MORE DREAMCAST MEDIA THAN ANYONE ON THE NET.

---
©2001 SEGA Dreamworld